The Cyanide & Happiness Adventure Game is an upcoming point-and-click game under development by Cyanide and Happiness. The studio, well known for their dark humor in comics, videos, and other projects, brought the game to Kickstarter in September 2017. The game was quickly funded and several stretch goals were met thanks to the 12k+ backers. The release date for the C&H Adventure Game (final title pending) has not yet been announced. This wiki is a collaborative resource for the game and is maintained by the contributions of the fans. Feel free to use our Discussions to discuss gameplay. All editors are welcome. Come join our community!
Cyanide &Happiness Adventure Game is about a misfit high school boy named Cooper McCarthy. Play as Coop as he struggles to make and keep friends while struggling with the pressures of graduation, prom and deciding what he wants to do in the future. All gets put aside however when a unexpected toxic accident leaves the town of Netherville in complete chaos. Not only has the landscape change, but the streets are riddled with all sorts of new and dangerous creatures. Ararchist cannibals, radioactive cults, mutant armies and suddenly sentient beings, one of which is now growing on Coop's head. Armed only with his friends, his fears, and a radioactive bottomless backpack, Coop faces this new world head-on.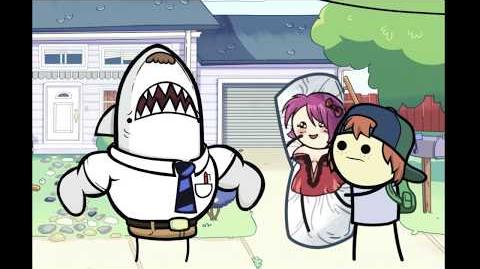 Community content is available under
CC-BY-SA
unless otherwise noted.